Amazon AWS EC2 Cloud Stealth ProxyBahn VPC4 Configurations
Each ProxyBahn server instance can be configured and scaled in several different ways.
Below are a few different scenarios to consider:
1.) Single dynamic or dedicated IP EC2 http proxy instance. 2.) Two IP single interface proxy (one public dynamic IP, one dedicate elastic IP) [EIP]. 3.) Two IP single interface proxy (two dedicated elastic IPs) [EIPs]. 4.) Three IP dual interface proxy (one public dynamic IP, two dedicated elastic IPs) [EIPs]. 5.) Three IP dual interface proxy (three dedicated elastic IPs) [EIPs]. 6.) Four IP dual interface proxy (one public dynamic IP, three dedicated elastic IPs) [EIPs]. 7.) Four IP dual interface proxy (four dedicated elastic IPs) [EIPs]. Any of the above configuration scenarios can be scaled 1-4 IPs per instance within a VPC and exponentially via multiple EC2 ProxyBahn AMI server instances. Mind you, with no server configuration required. Just turn then on, apply a filtered EC2 security group allowing port 8888 connections from your source IP only, and connect. Depending on budget and desired use cases, Totus Agency can help you determine which cloud front proxy architecture would best fit your needs.
If you've got an Amazon AWS account we can provision and manage your very own Stealth Proxybahn cloud. Just tell us how many proxies you need, we can configure your AWS infrastructure today using our Stealth ProxyBahn Premium AMI. With the Stealth ProxyBahn Premium AMI, we can configure as many servers you need up to 4 IPs per instance having your own dedicated cloud of IPs to connect to. If you're only needing to use a specific number of proxies during a specific scheduled time of day, month or quarter - we have an extremely cost effective ProxyBahn cloud spawning solution for you. Each server instance can be spawned and terminated on a schedule, grabbing a new dynamic public IP address each time, and in seconds have actual URL(s) or web addresses to connect to, not IP addresses! Thats right, ProxyBahn has dynamic DNS capabilities and currently works well with providers such as Enom, ZoneEdit, ChangeIP, DynDNS and DHISORG. Other providers can be provisioned upon request, and may require your own unique build of ProxyBahn AMI.
VERY IMPORTANT: When setting up your ProxyBahn VPC make sure to setup your security group allowing connections from YOUR IP ONLY. Setting it to 0.0.0.0/24 will allow anyone to connect which is not in your best interest. See illustration below: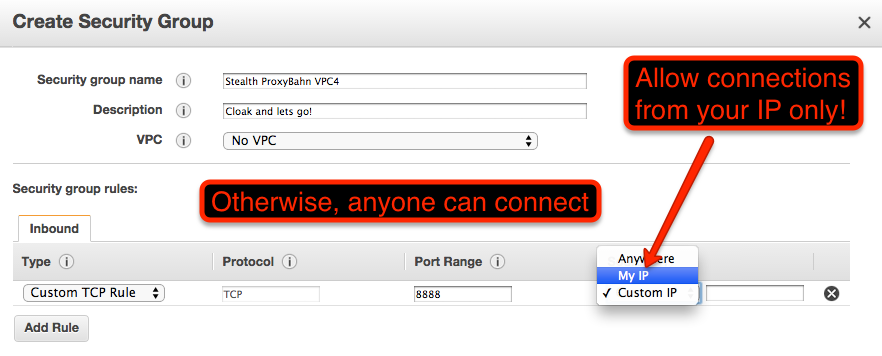 If you're planning on using a standard internet browser with your proxy instance and/or to test your proxy, you will need to configure your browser to connect to your instance's public IP address using port 8888. The following is a useful link that will guide you through the process of configuring browsers to use proxies for the most popular browsers. Make sure to set both http and https connections. Other types of applications such as search engine rank checking (SERP) applications, may support either http or https, or both. You can run your proxies persistantly with reserved instances this way. If your interested in applying dynamic DNS and are using our Stealth ProxyBahn VPC4 Premium AMI, just shoot us a support email and we'll walk you through it or configure on your behalf. In order to use Dynamic DNS, keep in mind that your domain registrar must support it. If you'd like to transfer your domain to our registrar, we can do all the configuration for you. Below is a sample of how its done:

node0.totusagency.com A
node1.totusagency.com A
node2.totusagency.com A
etc.. etc..

When you fire up e.g. 5 instances, the AMI with automatically be assigned dynamic IPs, then reach out to your DNS servers and update according. Ours obtain IPs and propagate DNS in under two minutes.
Email info [AT] totusagency.com: